All assigned numbers:
L136, L136a, L136b, LDA05, LDA06
Name:
Photos:

<------------------Upload attachments
--------------->

Appearance:
Telling this animal apart from L-262 can be somewhat tricky. However, this is a largely superficial similarity, as the myriad of spots tends to draw the eye away from the actual physical stature of the fish. In reality, L-136 (all three "versions", as coined by DATZ) is a much more streamlined and often, less vigorously spotted fish. As aforementioned, there are three basic coloration schemes of this fish, which is quite variable--these are all basic polymorphisms of spot size and shape, and the body shape of the animal remains the same. With an elongated head, flatter profile, and streaming fins, L-136 has a far different feel to it than L-262, the latter having a profile more reminiscent of the bulky L-411.**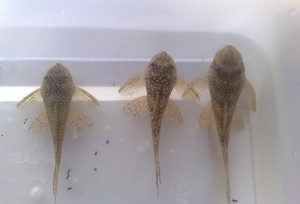 More info:
Identification of Hypancistrus

Compatibility:

Sexing and Breeding:

Diet:
An omnivore that leans towards a meatier diet, so the main diet should consist of meaty foods such as frozen foods (tubifex, mosquito larvae, blood worms, artemia), dry foods (freeze-dried foods, flakes, granules), carnivore sinking pellets, and occasionally some small pieces of shrimp, mussels or fish fillet. Once acclimatized, it will often also accept vegetable matter such as algae/spirulina disks and fresh vegetables (lettuce, zucchini/courgette, eggplant/aubergine, capsicum, carrot, peas, preboiled spinach).
This species usually does not eat algae (it lacks suitable teeth for that task), so it's not a suitable fish to keep your tank free of algae.

Water parameters:

Max Size:

Bred by:

Additional Comments:

**
Thank you to cup for permission to use the profile information from the Idenification of Hypancistrus article