Breeding the L333 Hypancistrus yellowish king tiger.
AGE/SIZE OF ADULTS AT SPAWNING: 7.5 to 8.5cm first spawn.
COUNTRY WHERE SPAWN OCCURRED: Queensland, Australia
TANK SIZE (GALLONS OR LITRES): 90cm x 36cm x 36cm, 116L
TANKMATES: At least a dozen LG6 whiptails.
TANK FURNITURE: (PLANTS/CAVE TYPE/WOOD) Anubias on driftwood, round ceramic log cave.
TANK SUBSTRATE: Coffs gravel with coral pieces to buffer.
TEMP (F OR C): Rena 100W heater set 26C. Temp range 26 to 28C.
PH: 6.8, dropping to 6 after rainwater wc.
FILTRATION/POWERHEAD/CURRENT: Under gravel filter with air stones on two risers, Ehiem 2213 canister intake on the 3rd riser, Otto 800lph power filter.
LIGHTING (TYPE/DURATION): Room fluros 4ft about 12hours a day, late morning to late night.
FOODS: Hikari algae wafers, Sera flora flake, Sera Viformo tabs, Cucumber(mostly eaten by the whiptails)
FREQ OF FEEDING: Daily
QTY/% OF WATER CHANGES: 25-30% rain water
FREQ OF WATER CHANGES: Weekly
NOTABLE DATES:
6/12/10 Added trio of sexed L333 7.5cm to 8.5cm to 3ft tank, Ehiem canister also added to the tank.
26/12/10 Large amount of rain.
Added 18 LG6 whiptails to the tank who commenced immediate spawning
11/1/11 Major flooding and storms
HOW WAS SPAWNING INDUCED?
Combination of rainwater wc, cooler and stormy weather and added a small Eheim canister with increased current. Previously only ugf and power filter filtration.
Addition of a piece of slate over the pleco spawning cave also allowed the female to sit closer with privacy.
DATE HATCHED: 13/01/11
WERE PARENTS OR EGGS/FRY REMOVED AFTER SPAWN? Fry removed and raised in thefishcave fry saver.
NUMBER OF FRY HATCHED: 16
NUMBER OF FRY SURVIVED: 14
FIRST FOODS: Hikari algae wafers, cucumber, Sera flora flake.
FREQ OF FEEDING: daily, they weren't fussed with cucumber but they got it anyway.
Tank photo ( the wave maker is a recent addition, post spawn)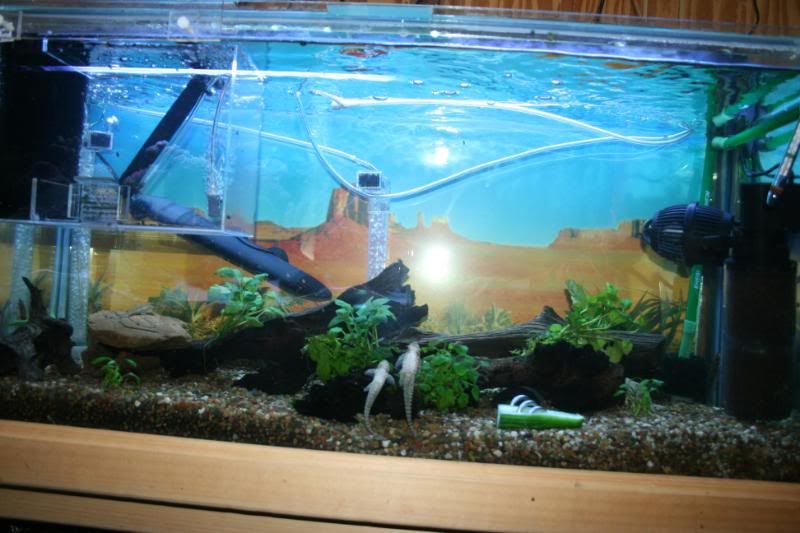 Adult photos taken 25 September 2010
8.5cm female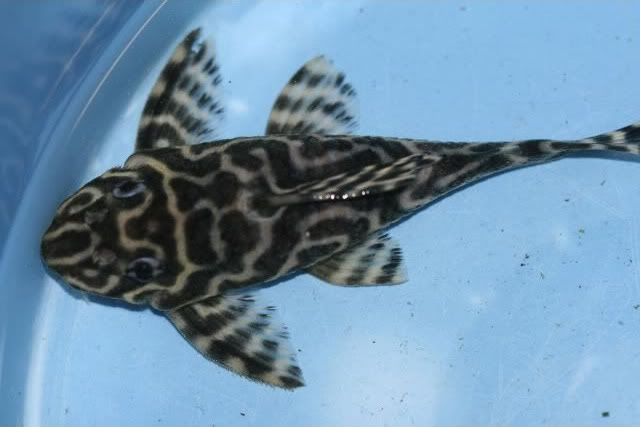 8cm male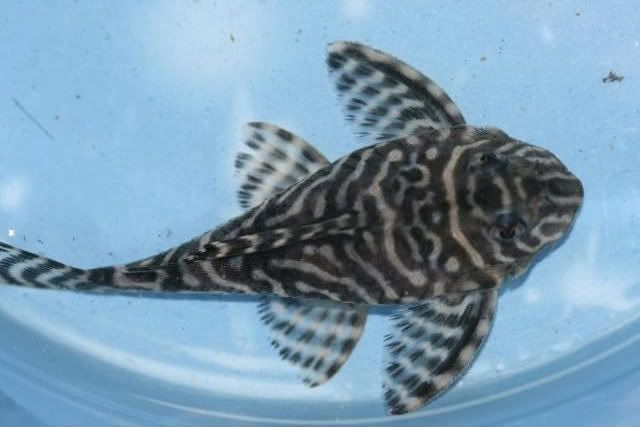 7.5cm female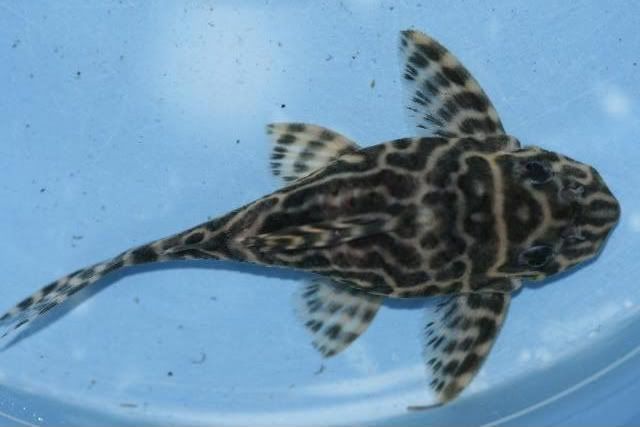 Male in log (note the shallowish fork in the tail, the L066 has a much deeper fork)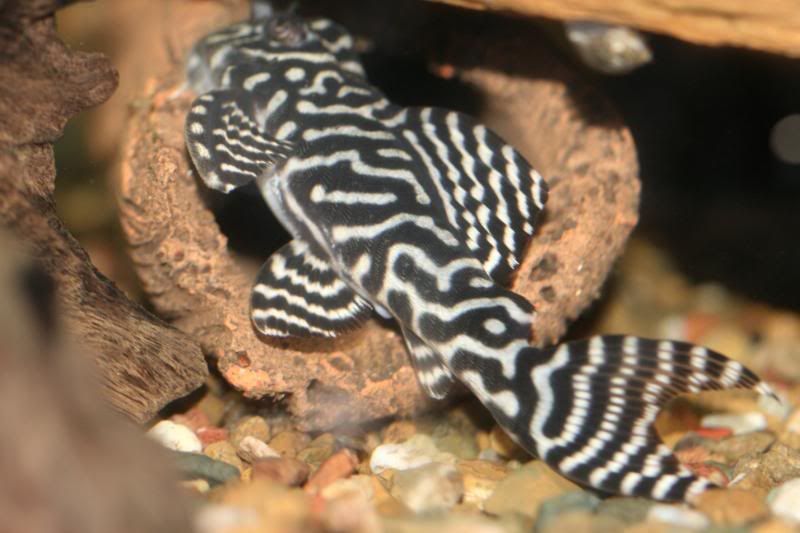 Fry 8 days (one fry is an LG6 whiptail)
Two weeks old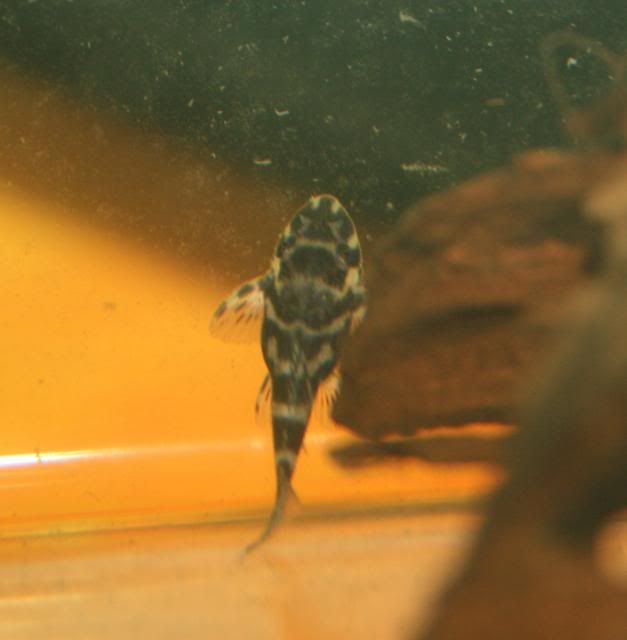 8th March, nearly 2 months old at 2.5cm and released from the fry saver to their own baby grow out tank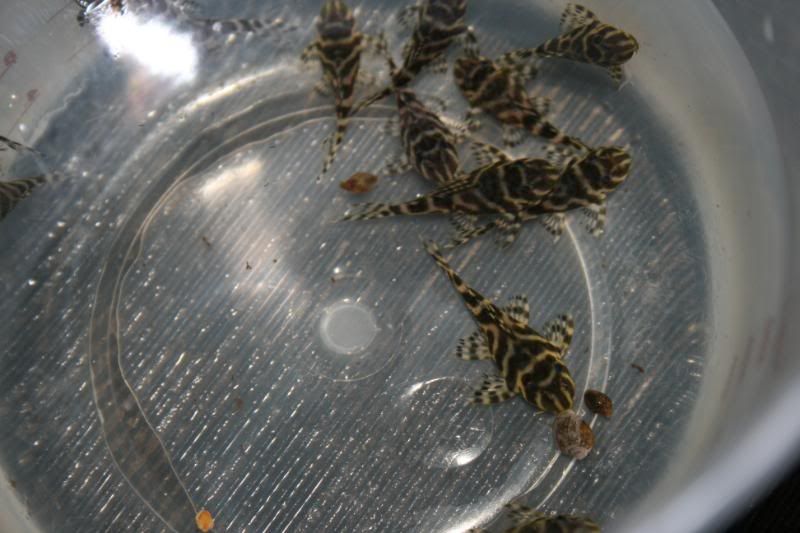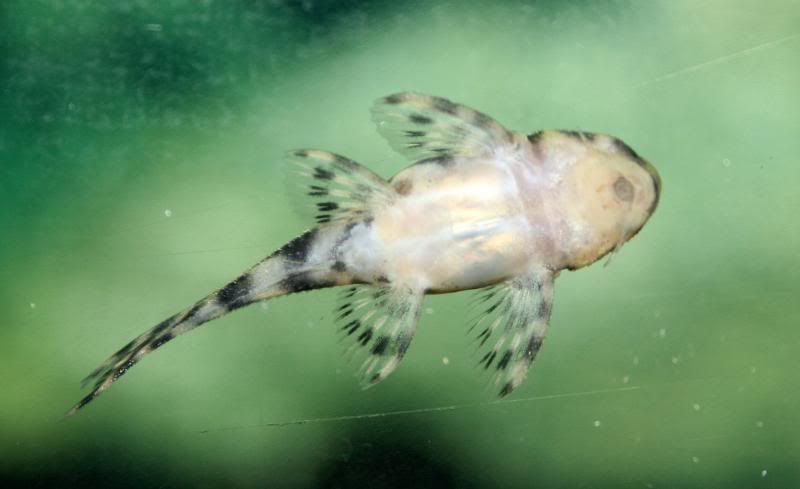 Almost 3 months old and 3.5cm.