Hi,
Keeping L cats seems to be a tricky thing as most people tell you that you shouldnt tell what you have or what you are doing, This i struggle with as it goes against my belief in the hobby, i would like to share what i know (which isnt that much really)
Ok i will leave some minor details out just to protect the privacy of the seller, costs etc, but touching on costs quickly these catfish cost me a huge sum of money which was scary in taking the plunge in buying them, But if we want these kind of fish in Aus then we have to be prepared to pay for the pleasure of owning them, and these guys are worth it just in seeing them in my tank
Anyway about August last year i was offered 6 L 260's included in that was a definate 10cm male and the rest were around 5-6cm mark, I bit the bullet, done the deal and brought them home.
I expected from size and all accounts that i was hoping to maybe breed them around the end of 2010 if i did everything right !
Just before Christmas i noticed about 3 huge yellow eggs rolling around on the floor of the tank and knew that these were a L cat eggs as i had just removed the last of the peppermint bristlenose i had in there about 4 weeks prior so all that was in the tank were the 260's and some 333's i was growing up at the same time.
I tried to tumble these eggs but they didnt hatch (I still suck at egg tumbling but perservere !)
About 1 week later 3 more eggs were kicked out and i tried to save them and failed again ! After this i went up to a LFS and bought a perspex tank, airpump etc to get serious about getting the egg hatching right for the next time !
2 weeks went by and nothing more, so i thought oh well back to the drawing board and just keep waiting.
One night i think around the 6th or 7th of Jan i was up late , turned the light on in the room where the tank is and just happened to glance at the tank, on the front glass i could see about 6, 2cm catties sucking on the front glass ! I was over the moon
The next night my wife and i planned a sneak attack, we waited until 11.30pm and left the tanks in darkness, then we jumped in with a torch, a bucket and a siphon hose ! We sucked out (with great difficulty i might add as they suck really well inside siphon hoses too) 9 juvie 2cm cats that were fully formed and had the yolksac fully absorbed.
We put these into a large perspex frysaver i had with a small piece of wood and started feeding them crushed Nls grow from there, This went well for about a week and a half and then i starting losing a juvie per day to bloat, I thought that this was due to the fact that the water wasnt flowing that well through the frysaver, I decided that until i worked out the problem i had to take the chance of letting them go for it on their own in the tank with the parents as i was keeping it as clean as i could, I lost one more in the tank form there on and then they stopped dieing(I lost 5 all up).
Im fairly sure now that what caused this was a invisible film of slime growing on the base of the perspex frysaver and because they are suckermouth cats then they were ingesting this bacteria and then getting infections in their stomaches.
After that they hid away and seemed fine, It took 6 months to grow them to 3cm and have since had 2 more small successful spawns , about 3 or 4 each spawn atm (the females are still only 5-6cm) and the male no longer kicks out the eggs.
So this is the setup they bred in;
Tank: 3 x 2 x 18 (250lts)
Temp: 29c
Ph: 7.0
Nitrate:20ppm
Filtration: Ehiem 2217, Aqua medic NR400 Nitrator
I havent tested for KH/GH or anything else
I do a 50% water change once per week and that is all that is needed due to the effectiveness of the denitrator, also i use straight tap water, So no real secret squirrel tricks, I was told by a guy in the UK that is breeding 80 260's at a time that as long as the water is clean its just a matter of time !
Here is a few pics;
Female L 260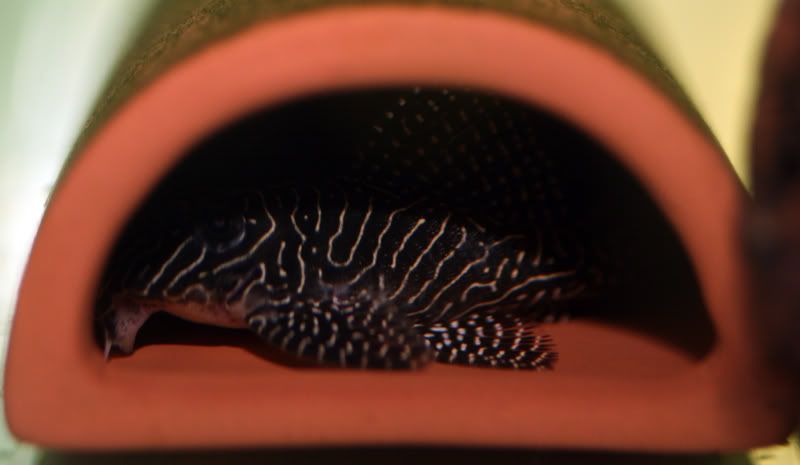 Male in cave with female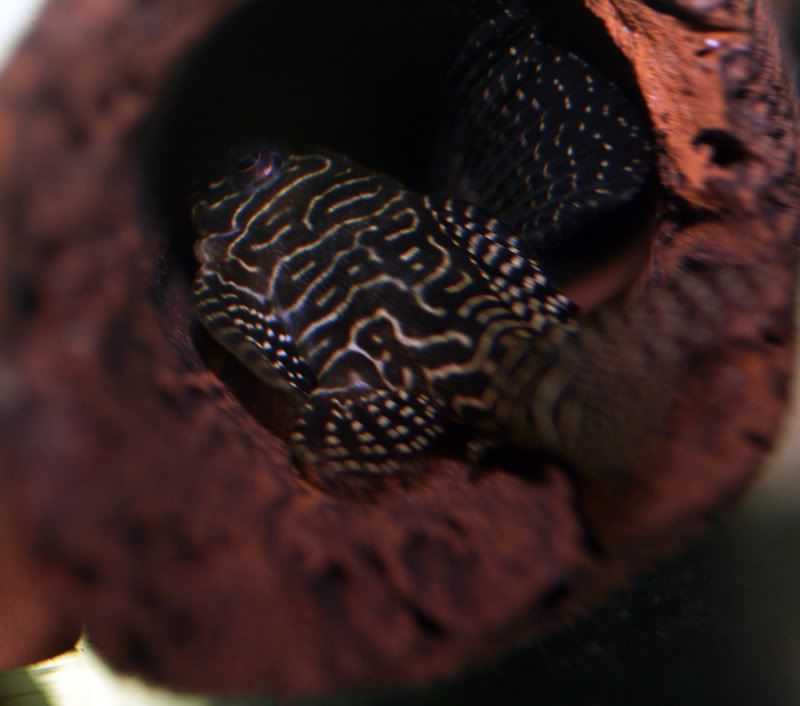 Female in cave with juvie on top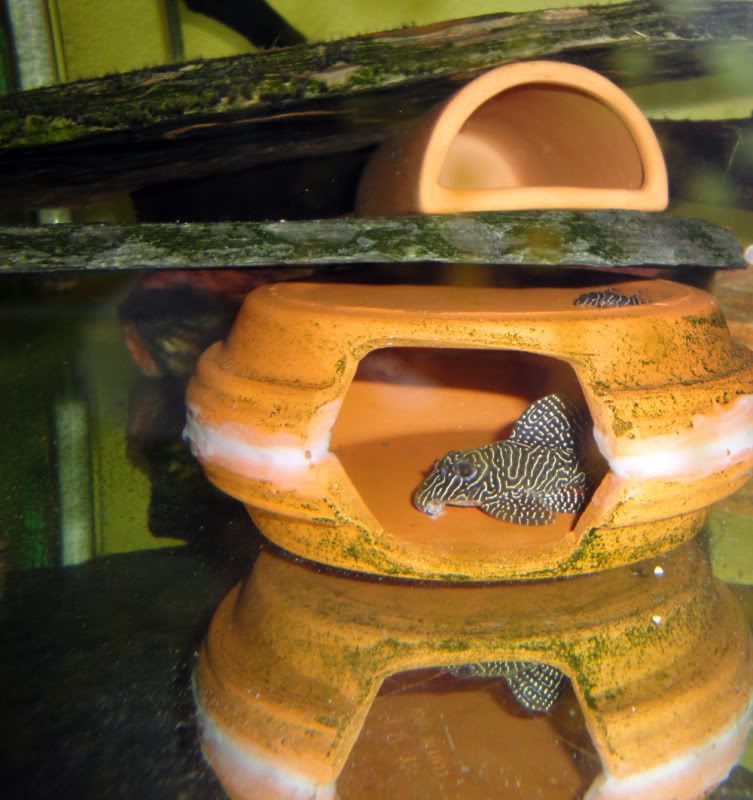 Juvies just after i caught them out and put them in the frysaver (probably around 2 weeks old)
Juvies at around 3 months old.
Finally juvies at 3cm-3.5cm which are 6 months old now ( these are the ones i just sold )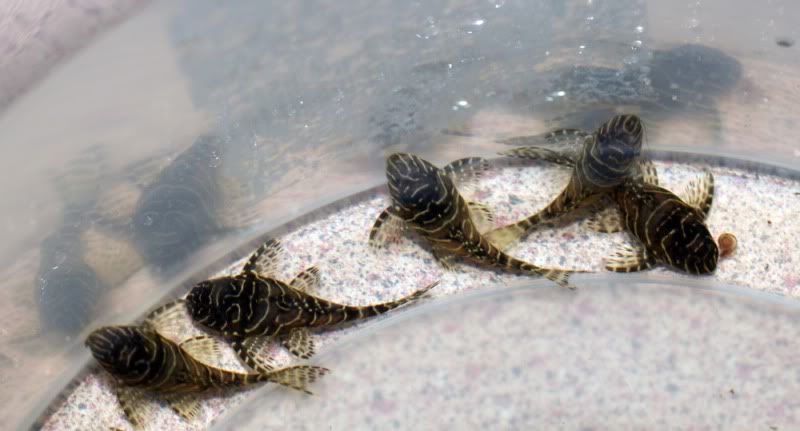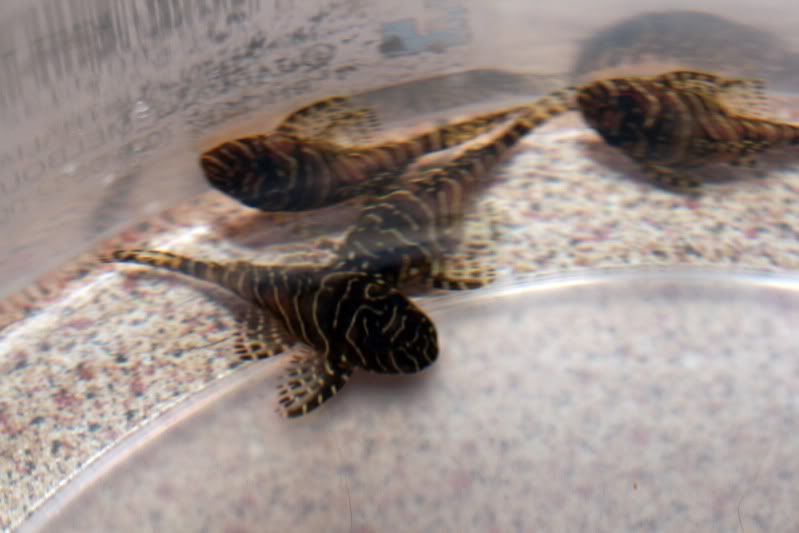 So like i said, no real secrets and hope that this continues for anyone that is fortunate enough to enter into the breeding of L cats
Cheers
Craig